There and Back Again:
Pre- AND Post-Cruise Planning

This page is dedicated to helping you with everything that comes before you board the ship. If you're looking for info on where we're voyaging to, check out the 2024 destinations. JoCo Cruise does not directly handle any pre- or post-cruise flights, hotel stays, or ground transportation, but we do offer the following advice and info.
Also, Holland America (HAL) offers a very thorough "Know Before You Go" FAQ section on their website for more detailed planning information.
IMPORTANT 2024 DATES
Friday, March 8th
It's not required, but we recommend arriving in Fort Lauderdale the day before sailing.
Saturday, March 9th
Boarding is between 11:30 am (approximately) and 3:30 pm. For more info on what happens at sea, check out the destinations and the schedule for a previous cruise.
Saturday, March 16th
We return to port in Fort Lauderdale at approximately 7 am. Disembarking can be a multi-hour process, so please plan your flights appropriately.
GENERAL TRANSPORTATION PLAN
If you're flying in, here's the general recommended plan:
FLYING IN
The closest airport is Fort Lauderdale-Hollywood International Airport (FLL). Miami International Airport (MIA) is a 45 minutes drive away. We STRONGLY recommended you arrive the day before the cruise (March 8) to allow for winter weather delays.
Airport to Hotel
Take a shuttle, taxi, or other vehicle from the airport to your Fort Lauderdale hotel.
Hotel to Ship
Take a shuttle, taxi, or other vehicle from your hotel to the Port Everglades cruise terminal. Be ready to present your cruise ticket and ID to enter the port complex.
Ship to Airport
When the cruise is over on March 16th, disembark and take a shuttle, taxi, or other vehicle back to the airport (or to your hotel, if you are sticking around).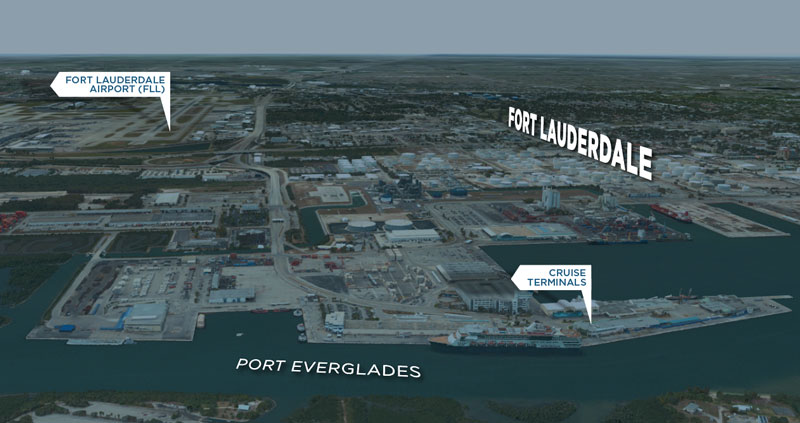 LAY OF THE LAND
Here's the basic layout of the airport (FLL) and the general cruise terminal area. Keep in mind, the cruise port has several terminals; we won't know our exact one until closer to the sailing date.

Fort Lauderdale-Hollywood International Airport (FLL) is the closest major airport, and services most major airlines. Miami International Airport (MIA) is 45 minutes away. The ship is scheduled to sail at 5 pm on March 9th, so in theory you could fly in that morning. This will, however, be the middle of Winter, and weather delays in any part of the country can affect flights all over. And please note that HAL requires all passengers to be on board no later than 90 minutes before our 5 pm sailing time; if you're not aboard the Nieuw Amsterdam by 3:30 pm, HAL may not allow you to board at the cruiseport. So for safety and peace of mind, you may want to fly in a day early and stay in a nearby hotel overnight.
On March 16th, the ship is scheduled to dock early (7 am), but disembarking can be a multi-hour process, and weather can affect docking time. HAL suggests that you not schedule your flight home before 12 noon, to be safe. Not a requirement, just a suggestion.
JoCo Cruise is not arranging blocks of rooms at area hotels for our attendees this year. In other words, there are no "official" JoCo Cruise hotels this year. You are more than welcome to organize amongst yourselves, share research on area hotel rates and availability, etc.; but JoCo Cruise will not be securing any "special rates" at any area hotels for JoCo Cruise 2024.
If you're looking for consensus on what hotels other attendees are staying at, we suggest asking in the JoCo Cruise Discord and/or the fan-run Facebook group…
The JoCo Cruise channels in our Discord are set up for people to post when they either have a booking and are seeking roommates, or are seeking a booking to join.
Fan-run, active group where you can usually find veteran cruisers who are happy to let you know the lowdown.

The process of boarding a cruise ship is similar to boarding an international flight, but with a few quirks. Here are the basics:
Ships embark and disembark at terminal facilities within the larger port, like gates in an airport. Just like at airports, security can be strict, so prepare and behave accordingly.

Our specific terminal won't be confirmed until closer to our sailing. Upon entering the port zone, there will be signage to direct you (or your taxi/shuttle driver, etc.) to the correct terminal for your ship.

You'll need to present your passport and boarding documents in order to enter the port zone. Be sure to have them ready before heading to the port; and keep them handy for when you get to the terminal.

The exact boarding time varies, depending on how long it takes for the prior sailing to disembark. But boarding typically starts between 11-11:30 a.m. When you arrive at terminal, there will be porters available to take your luggage. (It's customary to tip them a buck or two per bag.) You can opt to carry your luggage aboard yourself, but if your cabin isn't immediately ready when you board, you'll have to mind it until then.

Luggage checked with the porters might not arrive in your cabin until after dinner, so be sure to carry anything essential—especially medicines and your travel documents—with you.
Once inside the terminal, you'll first go through security screening. You'll need to present your passport and boarding documents. (But unlike air travel, you can leave your shoes on!)

After security, you'll check in for the cruise. You should at this point have completed the check-in process online, and this final step is done at a standalone "kiosk" that takes your photo, scans your boarding pass barcode, and you're all set. If you haven't done the online check-in, you'll be directed to a cruiseport staff member who will help you get sorted out.

While in the terminal, you'll also receive your JoCo Cruise laminate (which you can use as a name tag) and lanyard, the JoCo Cruise guide book and other handy items and/or handouts. Then onto the ship you go!

Although the ship departs at 5 pm, HAL requires everyone to be aboard by 3:30 pm. DO NOT BE LATE; passengers who arrive late may not be allowed to board the ship at the terminal.

If you wish, you can reserve transfers (airport-to-cruise terminal and cruise terminal-to-airport) via HAL's online travel planning option.
A form will be sent to your stateroom during the week for you to fill out, with two options for your luggage post-cruise: 1) carry your own luggage with you off the ship, or 2) have HAL bring your luggage to the terminal. If you select the latter, the ship will provide you with luggage tags to put on your packed bags, which you'll leave outside your stateroom on the last night of the cruise. The next morning, after you disembark, cruise terminal staff will be on hand to guide you in retrieving your luggage.
Once in the terminal with your luggage, you will need to pass through US Customs; please have all necessary travel documents ready. If you're a Global Entry member and have your card with you, terminal staff can direct you to the appropriate line.
Once through Customs and outside the cruise terminal, you can meet your transportation to the airport (or your hotel or post-cruise shore excursion, as applicable). If you haven't prearranged your transportation, there will be numerous taxis available outside the terminal that you can hire, or you're welcome to use a rideshare app.
Holland America also offers several programs that, for a fee, can either transport your luggage directly to your return flight, or directly back to your home. See "Luggage Services" on HAL's Know Before You Go page for further information.
As noted previously, disembarking can be a multi-hour process. While we're scheduled to dock early (7 am), HAL strongly recommends that you book your return flight for 12 noon or later, in case the ship arrival or disembarkation process are delayed.